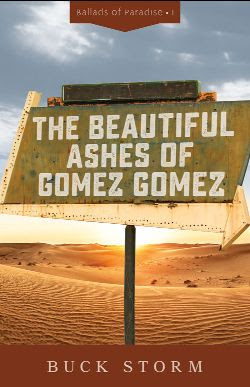 Literary Americana fiction filled with humor and heart
When his wife, Angel, is killed in a head-on collision, Gomez Gomez feels he can't go on--so he doesn't. He spends his days in the bushes next to the crash site drinking Thunderbird wine, and his nights cradling a coffee can full of Angel's ashes. Slow, sure suicide, with no one for company but the snakes, Elvis's ghost, and a strange kid named Bones.
Across town, Father Jake Morales plays it safe, haunted by memories of the woman he left behind, hiding his guilt, loss, and love behind a thick wall of cassock and ritual. Then a shady business deal threatens the town--and his good friend Gomez Gomez--and Father Jake can't just stand by and watch. But what happens when the rescuer is the one in need of saving?
The Beautiful Ashes of Gomez Gomez is quirky, heartfelt, and deeply human. Lives and hopes collide in the town of Paradise, stretching across decades and continents in this epic story of forgiveness, redemption, and love.
MY REVIEW
I don't think I have been entertained by a book like this one in a long time. The characters are flawed, quirky and downright fun. The author writes a story that captures the good old days reminiscing about rock music and hanging out with friends you've know forever was a treat.
Gomez Gomez is missing his wife and doesn't want to let go of her memory. He has become a recluse in the woods. I liked him instantly when he said he was a believer . I thought it was funny that so many people were worried about him, yet Gomez Gomez seems quite content with how he is living. The bitterness he harbors about his wife's death is getting to him though.
There are several characters that interact with Gomez Gomez that makes the story interesting. I can't forget about Father Jake. Now there's a man who has a double whammy of guilt and regret. We make decisions in our life and sometimes they turn out bad. Jake is regretting a big decision he made and now is wandering around unhappy. It sure is hard to see the person you love everyday and not be able to be with them.
There are several twists in the story that took me by surprise. Just when I thought I had figured out what was going to happen, the author throws a curve ball in the story. I do believe I would like to meet Gomez Gomez and let him know that others may judge him , but God knows the pain he is in. The author gives us a look at forgiveness, redemption and characters I hope to see in another book.
I received a copy of this book from Read With Audra Blogging Program. The review is my own opinion.
Buck Storm is a critically acclaimed author and musician whose stories have found friends around the world. His nonfiction work includes
Finding Jesus in Israel
and
Through the Holy Land on the Road Less Traveled
. Storm's novels include
The List
,
The Light
,
Truck Stop Jesus
, and
The Miracle Man
. The latest,
The Beautiful Ashes of Gomez Gomez
, launches his new series, Ballads of Paradise.
Storm and his wife, Michelle, make their home in North Idaho and have two married children.
Learn more about Buck Storm, as well as his writing and music, at
buckstorm.com
. He can also be found on
Facebook (@buckstormauthor)
,
Twitter (@buckstormauthor)
, and
Instagram (@buckstorm)
.
"The Beautiful Ashes Of Gomez Gomez solidifies Buck Storm's place among the unique literary voices of our day. Infused with humor, imagination, and poetic beauty, Buck's writing is an absolute delight. I've read all his books, and his characters have taken up permanent residence in my memory. They come back to me at unexpected moments and invariably leave me smiling. Anyone who travels into the wild, wacky, wonderful world of Gomez Gomez is in for an unforgettable adventure."
~ Ann Tatlock, novelist, blogger, and children's book author

"I've never read a phrase from Buck Storm that wasn't time well spent―and worth reading again. A topflight storyteller, Storm pits his protagonist―an eccentric, homeless widower―against a powerful and wealthy small-town businessman. The engaging story has readers quickly joining the cast of funky supporting characters on the streets of Paradise, Arizona, grooving on creative plot twists and wondering if this hero-and-villain drama can ever be resolved."
~ Randall Murphree, editor of AFA Journal

"From a small Southwest town to the island of Corfu, Storm's quirky characters take us to a place where love, compassion, and redemption may seem out of reach but are always within our grasp. From a cameo from Elvis to a story within a story, The Beautiful Ashes of Gomez Gomez becomes more than a metaphor. Is Paradise, Arizona, real? We can only hope."
~ Bill Higgs, author of Eden Hill
GIVEAWAY BELOW